MedShr partners with the Arrhythmia Alliance!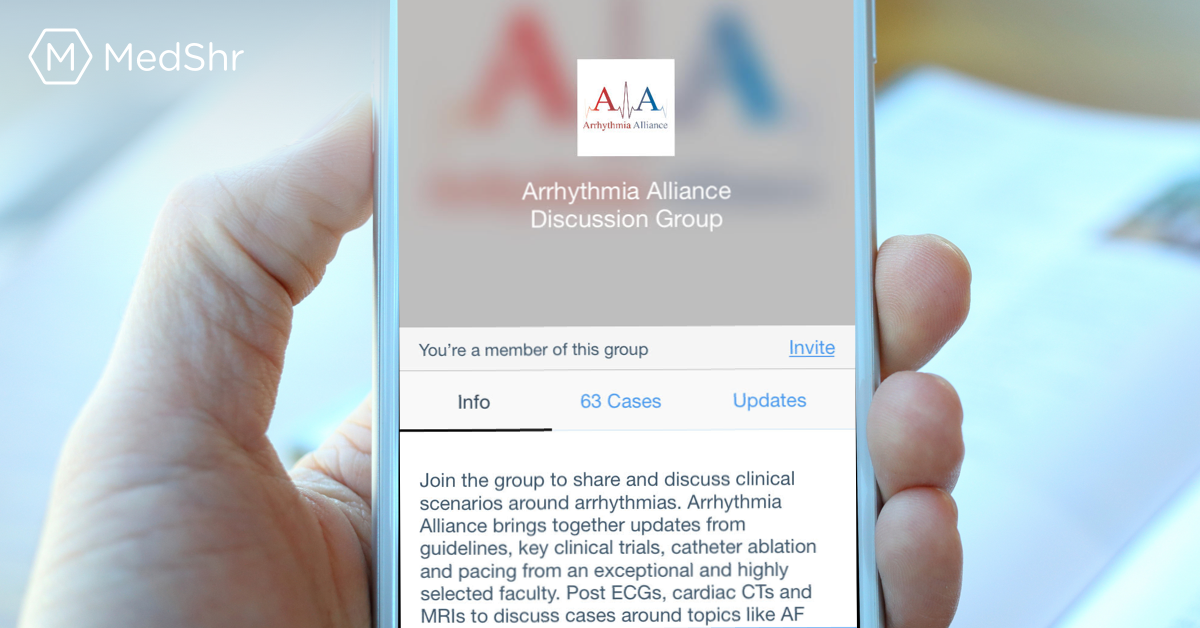 Clinical discussion in cardiac arrhythmia
We're working with the Arrhythmia Alliance to support clinical discussion and invaluable education around cardiac arrhythmias. The Arrhythmia Alliance supports awareness, diagnosis and treatment of cardiac arrhythmias through regular Cardiac Update Meetings and the annual Heart Rhythm Congress.
We're supporting these meetings through the Arrhythmia Alliance Discussion Group. Members can connect to fellow attendees in this group, and discuss cases on arrhythmia topics from meetings. This group offers a unique opportunity for doctors to reflect on their clinical practice in a GMC compliant environment, and to discuss a range of arrhythmia patient cases with other UK cardiologists.
Cardiac Update Meetings and Heart Rhythm Congress
These are important meetings for cardiologists and HCPs, as they are an opportunity to share best practice and information on device and drug treatments around atrial fibrillation, syncope or other heart rhythm problems. This year's agenda covers topics like the role of digital technology in "Detect, Protect, Correct", managing SVT, risk management of AF, prevention of AF-related stroke, and interactive ECG scenarios; to name a few. 
Click here to register for a Cardiac Update Meeting near you. See some upcoming meetings below:
Wednesday 10 April, Brighton Racecourse | View Agenda

Thursday 11 April, London Salvation Army | View Agenda

Tuesday 16 April, Bath Racecourse | View Agenda

Wednesday 1 May, Coventry Clinical Sciences Building | View Agenda

Thursday 2 May, Novotel Southampton | View Agenda

Thursday 7 May, Basingstoke - Ark Conference Center | View Agenda

Thursday 6 June, Oxford | View Agenda

Wednesday 12 June, Cambridge Anglia Ruskin Univ | View Agenda

Tuesday 18 June, Edinburgh | View Agenda

Wednesday 19 June, Jurys Inn Newcastle | View Agenda

Thursday 20 June, Middlesbrough Hardwick Hall Hotel | View Agenda

Wednesday 26 June, Manchester TBC | View Agenda

Wednesday 27 June, Leeds TBC | View Agenda

TBC, Plymouth TBC
There is also the Heart Rhythm Congress taking place 6-9 October 2019 – learn more here
Attendees can share tips and tricks from their own clinical practice, alongside insights from the meetings in the Discussion Group. Delegates also have the opportunity to obtain CPD credit for cases posted in the MedShr group. If you're unable to attend, this Group gives you the ideal space to keep up with discussions from key topics at the 2019 meetings.


Explore trending cases in the Arrhythmia Alliance Discussion Group: