Join MedShr at the TVT 2019: Structural Heart Summit
Join us at TVT 2019!
We're glad to be working with CRF again this year to support TVT 2019: The Structural Heart Summit. Now in its twelfth year, TVT 2019 brings a unique opportunity to experience a comprehensive clinically-relevant congress in structural heart disease, in Chicago from 12-15 June 2019.
This year's event features:
• 20 Live Case Demonstrations
• Training Pavilions and Workshops
• Comprehensive Learning and Case-Based Tutorials
• Call for Science: challenging cases, poster abstracts and late-breaking clinical science
We would like to invite you to join the CRF TVT Structural Summit 2019 Group on MedShr, where you connect with colleagues and faculty whether you are going to be able to attend the Summit or not. This group features case discussions from TVT 2019 as well as MedShr-CRF competition entries.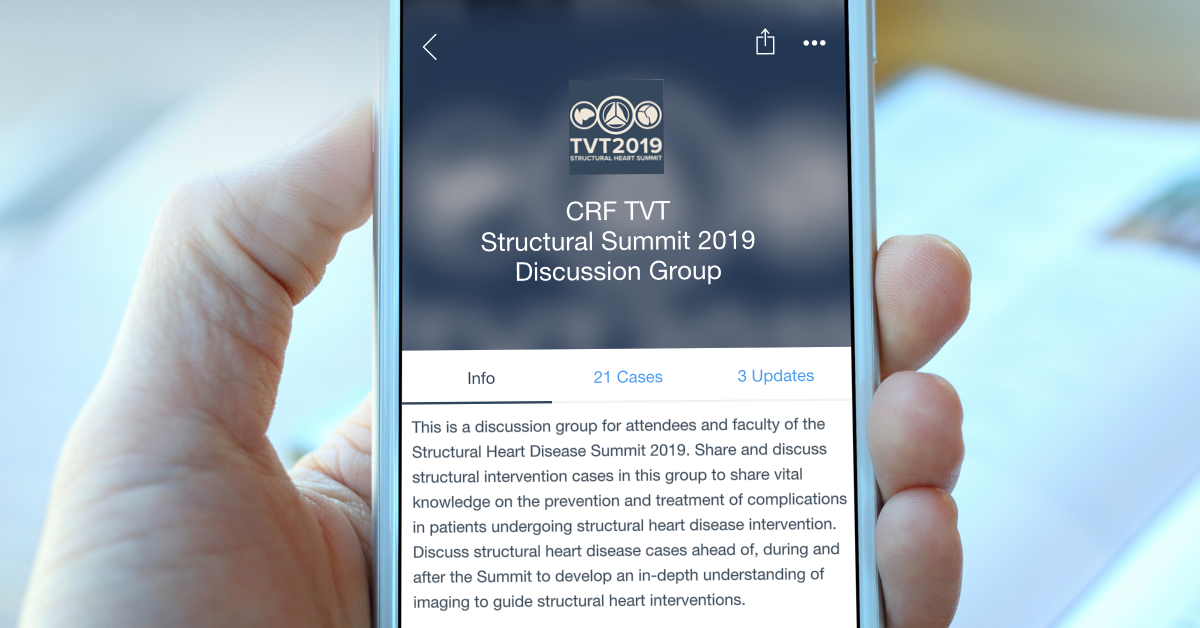 Enter the MedShr-CRF Case Competition
MedShr and CRF are running a case competition ahead of TVT 2019 to find the most interesting cases with the most engaging discussion. 
To enter simply post a structural intervention case in this group medshr.it/TVT2019. Once you have posted your case, please email crf@medshr.net with a link to your case letting us know it is a competition entry. 
Competition case topics can include valve interventions, LAA, PFO and ASD interventions. Cases already entered as TVT Challenging Cases can also be entered into this MedShr competition. There is no limit on the number of entries you post, and we're looking forward to seeing your cases. Judging will be based on case presentation, online discussion and engagement on the case.
Winners will be announced during TVT 2019, with prizes and case awards for the best cases with the most engaging discussion. CPD credits are also available for MedShr cases. 
TVT 2019 Structural Heart Summit Group
Take a look at the cases in the CRF TVT Structural Summit 2019 Discussion Group on MedShr and share your views on strategy and techniques. 
MedShr and CRF
CRF has partnered with MedShr for clinical case discussion, and to move this away from Twitter, Facebook and other open social media channels. Whilst these are convenient, they do not protect patient privacy. There are even risks with WhatsApp groups, because although the messaging is secure, shared images are stored in the user's phone photo library.
MedShr has previously collaborated with CRF around TCT, CTO 2019 & 2018, and TVT 2018.
MedShr is the private, professional network, developed for verified medical professionals to discuss clinical cases. It allows you to share your clinical images and cases in a safe way that is GMC and HIPAA compliant. MedShr is growing rapidly with over 800,000 members in 190 countries, including 30,000 cardiologists.
Cardiovascular Research Foundation (CRF)