The use of prone positioning in COVID-19

Prone positioning is being used to help patients with COVID-19
The above image by Salim Rezaie is an illustration of aerated lung in supine and prone positions (1).
Prone positioning (lying facing chest down) of intubated patients has long been known about and studied. It is a well established element of care for patients with severe ARDS. However, there has been conflicting evidence on its use in other patient groups. 
The novel coronavirus has called for innovation and re-exploration of known techniques, especially where a simple low-resource intervention may lead to patient improvements. 
There has been increasing mention of use of prone positions in awake patients, particularly on FOAMED resources and medic twitter. Anecdotal reports from intensive care teams suggest the perceived success of these techniques in preventing intubation and improving oxygenation. Published literature has also mentioned use of awake-proning, and some professionals are advising patients to self-prone at home.  
How does it work? 
The proposed physiological benefits of prone positioning of patients above supine position include (2):
Reduced pressure on the lungs

Beneficial fluid shift

Improvement of V/Q mismatch

Improved secretion clearance
Published evidence:
In COVID-19 patients
A small retrospective observational study of 12 intubated and ventilated COVID-19 patients with ARDS found adjusting patients from supine to prone resulted in a significant increase in lung recruitability and increased oxygenation (3) (although this is a small study with other potential confounding factors such as concomitant ECMO-use in some patients)

Data from >600 COVID-19 patients with pneumonia found the awake prone position had 'significant effect' on oxygenation and pulmonary heterogeneity (4) (although full details such as P value and methods were not made available in this letter to the editor of a region-wide experience)
In ARDS patients without COVID-19
A multi-centre, prospective randomised controlled trial of 237 patients with non-COVID severe ARDS found early application of prolonged prone-positioning sessions significantly decreased 28-day and 90-day mortality (5)

A cochrane systematic review found that prone positioning may confer a statistically significant mortality advantage when there is early implementation of prone positioning, prolonged adoption of prone positioning and severe hypoxaemia at study entry (6)

A systematic review and meta-analysis found prone positioning is likely to reduce mortality among patients with severe ARDS when applied for at least 12 hours daily (7)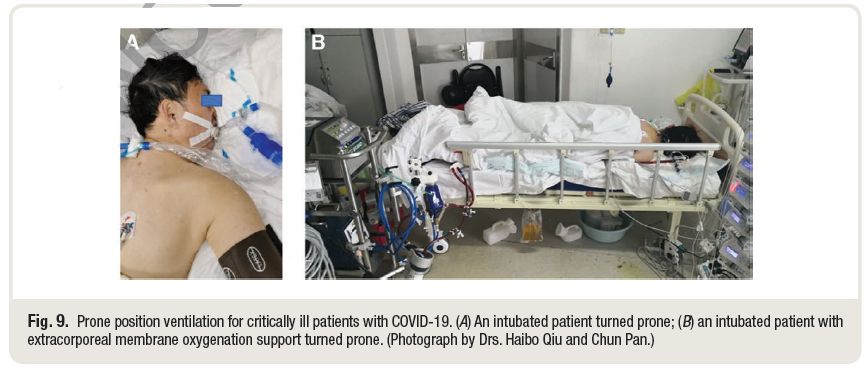 Prone positioning of intubated patients (8)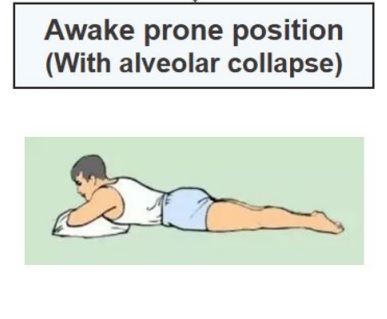 Awake prone position used in COVID-19 patients (4)
Proposed for use by the paper authors where there is radiographic evidence of alveolar collapse.
Evolving practice
A protocol (shown below) for awake-proning patients has emerged amongst FOAMED resources on twitter and is being adopted by some NHS teams (9).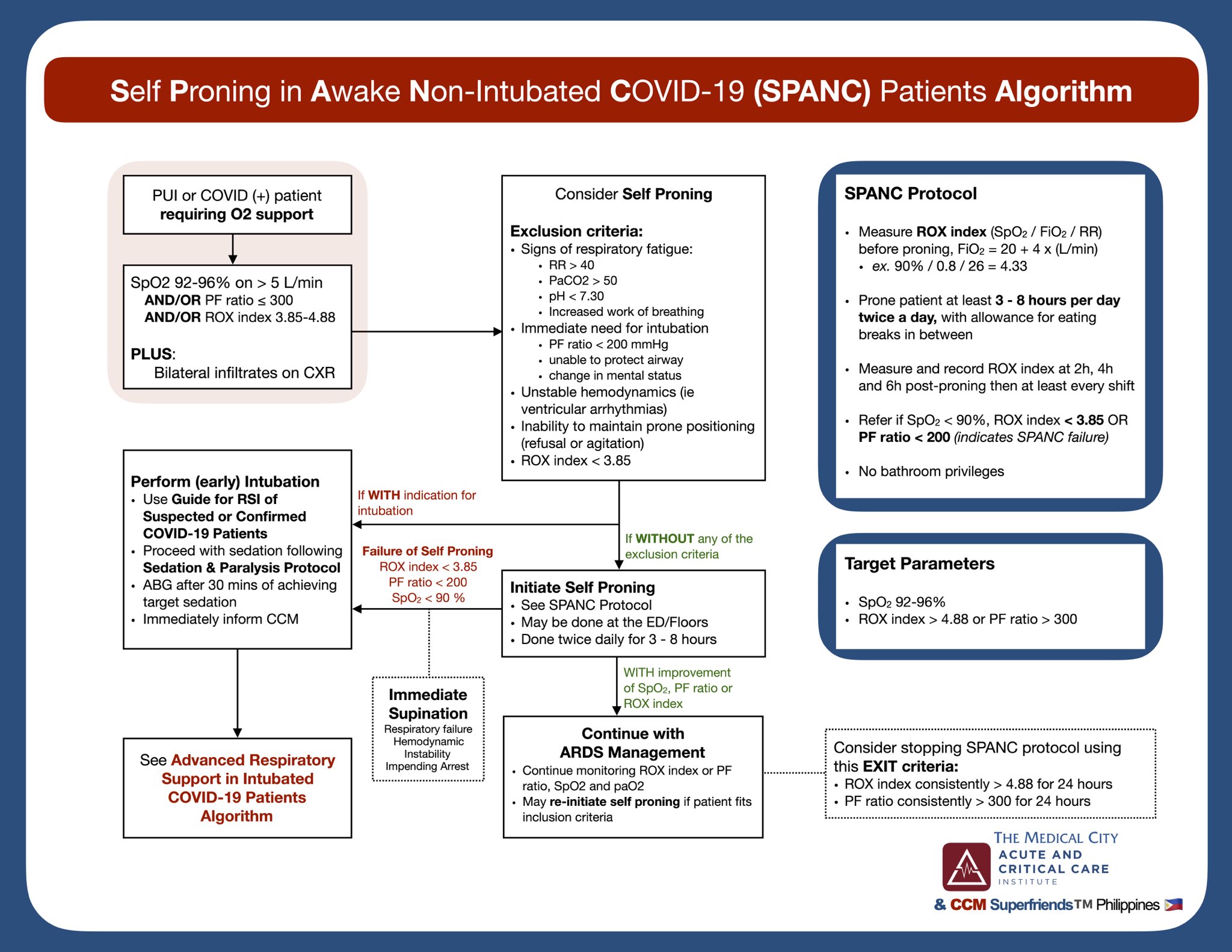 Some clinicians are advising patients with COVID-19 who are safe to recover at home to self-prone as shown below (10).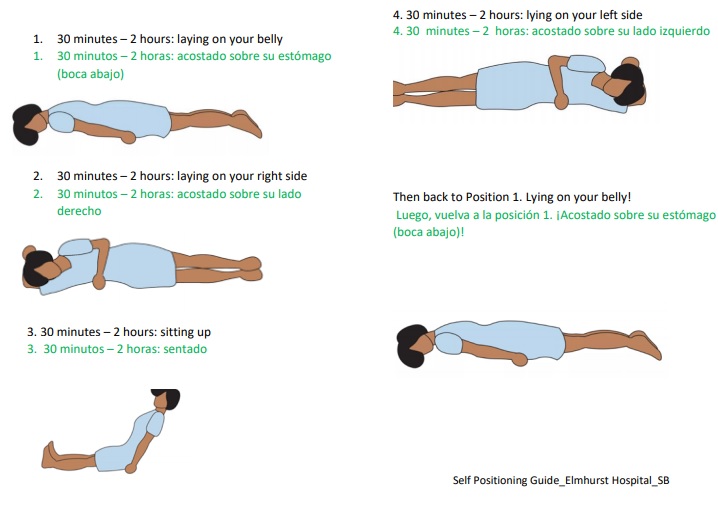 Further resources:
NEJM demonstration in intubated patients:

NHS trust talk on use of prone positioning (most widely applicable elements begin at 6 minutes).
References
1. Salim Rezaie. Rebel EM: Awake Proning. [Online] Available from: https://rebelem.com/covid-19-hypoxemia-a-better-and-still-safe-way/awake-proning/ [Accessed 8.4.20]
2. Amanda Fairbourn. NHS Rotherham: Prone position ventilation in COVID-19. [Online] Available from:  https://www.youtube.com/watch?v=P4uJntjGhc0 [Accessed 8.4.20]
3. Pan C et. al. Lung Recruitability in SARS-CoV-2 Associated Acute Respiratory Distress Syndrome: A Single-center, Observational Study. Am J Respir Crit Care Med. 2020 Mar 23. doi: 10.1164/rccm.202003-0527LE. [Epub ahead of print]
4. Sun Q, Qiu H, Huang M, Yang Y. Lower mortality of COVID-19 by early recognition and intervention: experience from Jiangsu Province.Ann Intensive Care. 2020 Mar 18;10(1):33. doi: 10.1186/s13613-020-00650-2.
5.Guérin C, et. al. Prone positioning in severe acute respiratory distress syndrome. N Engl J Med. 2013 Jun 6;368(23):2159-68. doi: 10.1056/NEJMoa1214103. Epub 2013 May 20.
6.Bloomfield R, Noble DW, Sudlow A. Prone position for acute respiratory failure in adults.Cochrane Database Syst Rev. 2015 Nov 13;(11):CD008095. doi: 10.1002/14651858.CD008095.pub2.
7.Munshi L. Prone Position for Acute Respiratory Distress Syndrome. A Systematic Review and Meta-Analysis. Ann Am Thorac Soc. 2017 Oct;14(Supplement_4):S280-S288. doi: 10.1513/AnnalsATS.201704-343OT.
8.Lingzhong Meng et. al. Intubation and Ventilation amid the COVID-19 Outbreak: Wuhan's Experience. Anesthesiology 2020; doi: https://doi.org/10.1097/ALN.0000000000003296. 
9. Iea Del Prado. SPANC Protocol. [Online] Available from: https://twitter.com/iea_EMcc  [Accessed 8.4.20]

10. David Gordon MD. Awake Pronation. [Online] Available from: https://emcrit.org/emcrit/awake-pronation/ [Accessed8.4.20]