Fearless! Women's Clinician Network Event
SWBH NHS Trust has created the SWBH Women's Clinician Network, led by Dr Sarb Clare, Deputy Medical Director and Acute Physician.

The aims of the network are:
Role Modelling; "If you can see it, you can be it"

Mentors and Career Advice; spend a day with the Med SpR, encourage colleagues to apply for EBA

Promote leadership and open up opportunities; "Lift others as you climb" and "don't forget those left behind!" 

Confidential Ears; a safe place to raise concerns of inappropriate behaviour
The SWBH Women's Clinician Network have delivered various events including their inaugural conference "Women Empowering Women" attended by 110 women and 3 babies. Their second event was aimed at female consultants encouraging them to apply for CEA as the chance of success equates to that of men. 
 The SWBH Women's Clinician Network will have their third event, a workshop entitled: "Fearless: strategies for response, courage and reflection for female clinicians"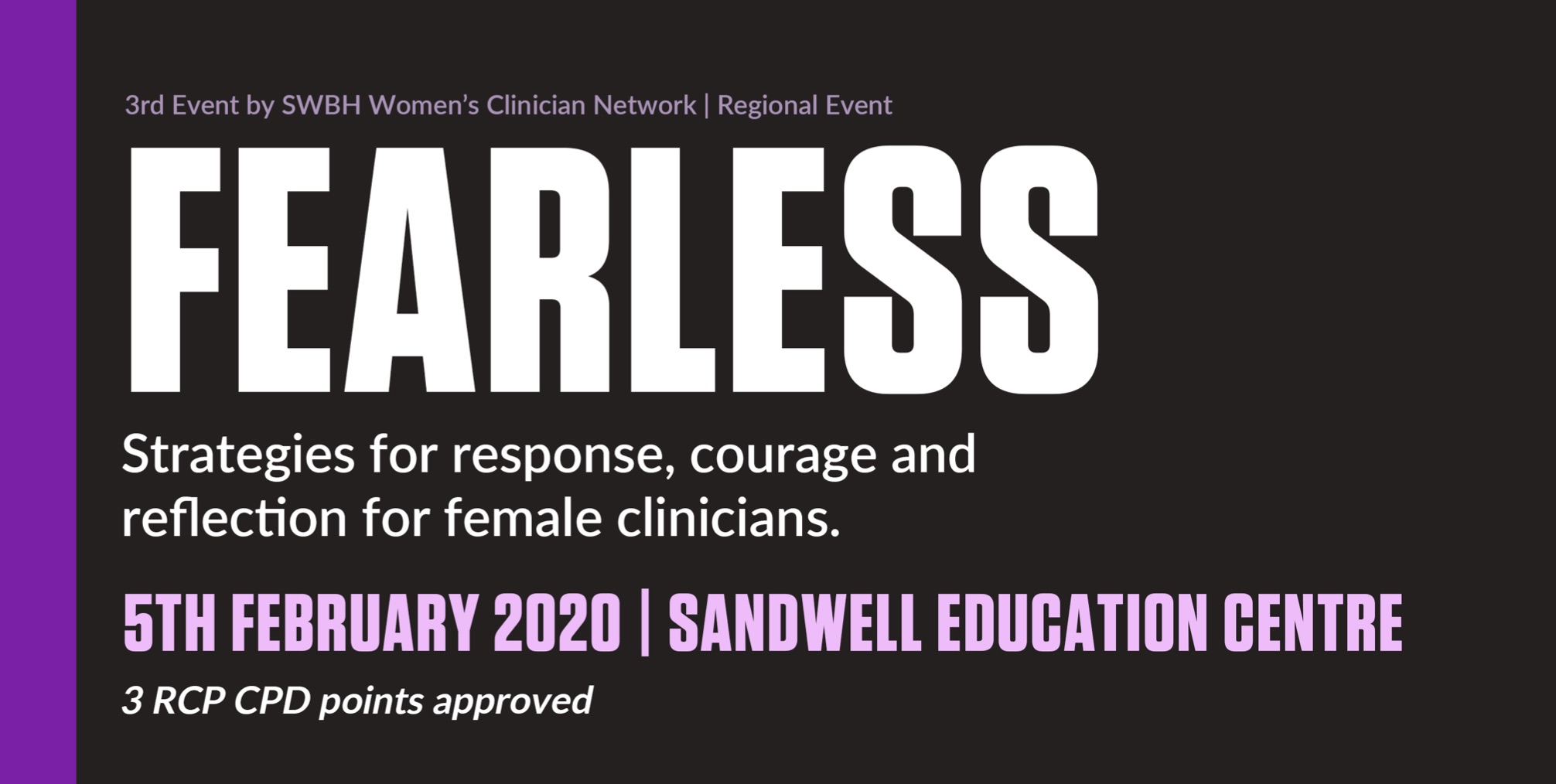 This free event will take place 5 February 2020, SW Education Centre, 12:30-5pm. Attendees will be accredited 3 RCP CPD points.
This afternoon addresses the feedback from the "Women Empowering Women" Conference where women described a need for strategies to respond to sexism, inappropriate verbal and physical behaviour, bullying and unprofessionalism in the workplace.
The event aims to empower attendees with the following skills;
Mindset– What is inappropriate? What is unprofessional?

Courage to speak up, raise concerns and be heard

How to respond physically and verbally to remain professional

Who to escalate concerns to

Understanding of the formal pathways for investigations and support available

Well-being, how to keep well and reach your full potential
Please register via email – swbh.acutemedicalsecretariesamu1@nhs.net
Please note there are limited spaces
Please share details of this event to your juniors and colleagues!
The forth event will be held on the 8th July 2020 and is titled "Survival of the Fittest- Menopause Like Madonna- Top Tips for Clinicians"
Contact in confidence via email swbh.WomensClinicianNetwork@nhs.net