How does SARS-CoV-2 spread?
Two studies that can tell us a lot about transmission of SARS-CoV-2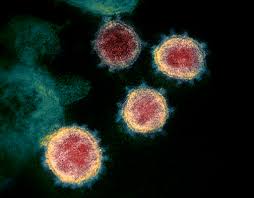 Patient Samples
A study of 18 COVID-19 inpatients found:
Nasopharyngeal viral shedding lasted at least 7 days in 83%, a mean of 12 days, ranging from 1-25 days

Virus was detected in stool in 50%

Viraemia was detected in 8%

Virus was not detected in urine (0%)
The figure below by the paper authors indicates viral shedding throughout clinical course
Red dots indicate positive nasopharygeal samples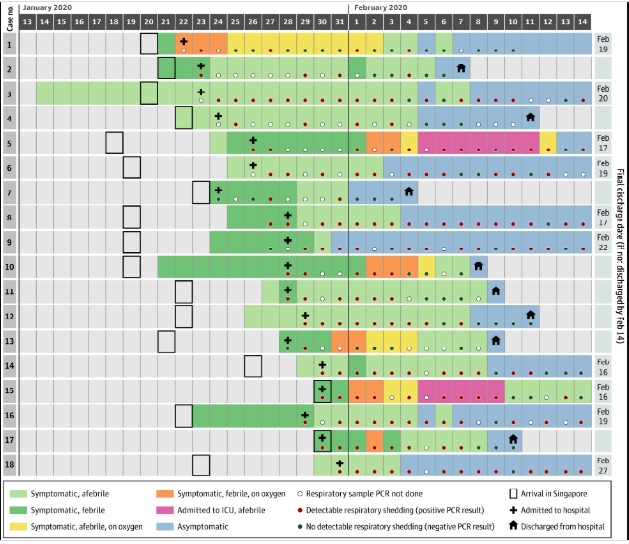 Patient Environment
A study of 13 patients mildly affected with COVID-19 found:
Air sampling indicated that aerosols are generated by COVID-19 patients even in the absence of a cough

Air samples detected SARS-CoV-2 after only 10-20 mins of sampling

Positive samples were detected in personal air samplers worn by staff conducting the study

66.7% of hallway air samples outside patient rooms tested positive for SARS-CoV-2
Positive samples from under the patient bed and windowsills (which were not used by the patient) indicate the relevance of airflow to where viral particles settle
The table below shows viral detection in patient rooms
These tables were created to summarise the article content.

References
1. Young BE et. al. Epidemiologic Features and Clinical Course of Patients Infected With SARS-CoV-2 in Singapore. JAMA. 2020 Mar 3. doi: 10.1001/jama.2020.3204. [Epub ahead of print]
2. Santarpia JL et. al. Transmission Potential of SARS-CoV-2 in Viral Shedding Observed at the University of Nebraska Medical Center. NEJM. medRxiv preprint doi: https://doi.org/10.1101/2020.03.23.20039446.
Written by Dr Rachel Coles, paediatric trainee on 27th March 2020.
Email comments and questions to covid@medshr.net