German Military Medivac patients from Italy and France to Germany
Germany is set to treat coronavirus patients who are being flown in from nearby European nations that have been worse hit by the pandemic.
The country's military are flying Covid-19-positive patients in from France and Italy in an effort to help countries' whose health services are struggling to cope with the crisis. An air force plane landed in Bergamo, northern Italy, early this morning and is due to return to Cologne, west Germany with six Italian patients, who will be treated at various hospitals in the region.
Newly-released images have shown the remarkable equipment on board the plane – which is an Airbus A-310 'Medivac'. Several German state governments have offered to take in patients from Italy and some have already arrived.
It is not clear what the selection criteria are for patients to be transferred but presumably those who are younger with higher chance of recovery but requiring longer periods of ITU care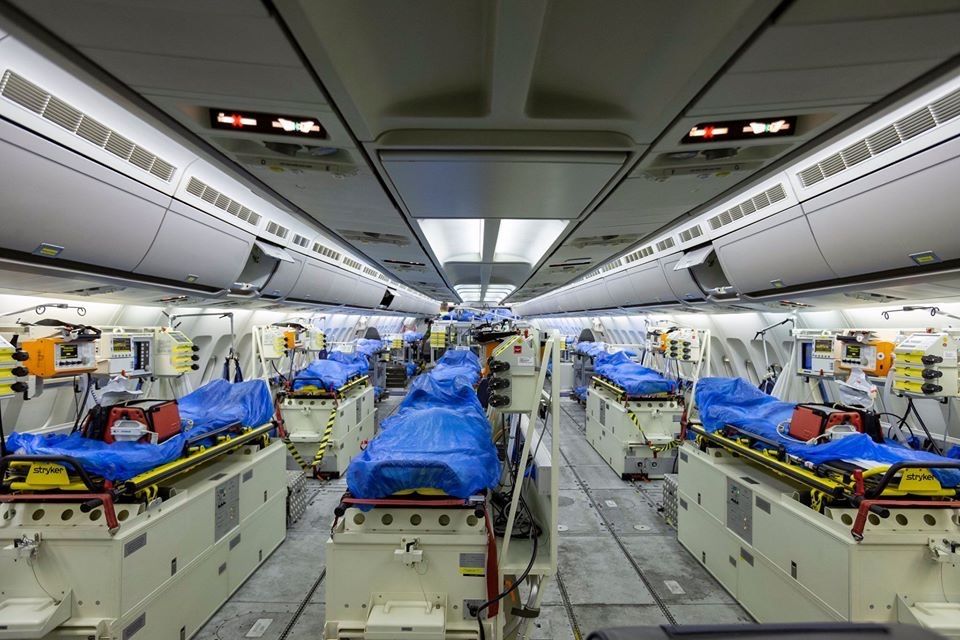 The ITU set up consists of:
"Evita 4" transport ventilator "Oxylog 3000"

Multi-function monitor "Propaq EL106"

2 triple syringe pumps "Combimat 2000"

Suction pump "Accuvac"
Other equipment on board includes
16 "Micropaq" patient monitors
1 "I-Stat" blood gas analyzer
2 flexible bronchoscopes
"SonoSite" portable ultrasound system
6 "Barkey" patient warming systems
12-lead ECG
2 defibrillators
16 "Combimat 2000" triple syringe pumps
4 Medumat LifeBase III
4 "IP 2000" infusion pumps
1 central monitor system
1 refrigerator for medical chilled goods