Heart Attack VS. COVID-19: Is it safer to stay home or go to hospital?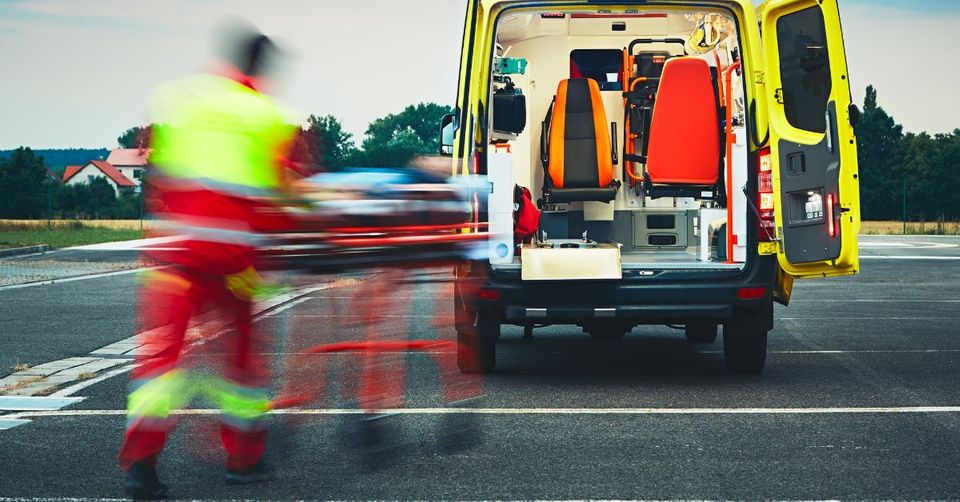 If you were shielding from COVID-19, what would you do if you thought you might be having a heart attack or a stroke? What if you didn't have textbook heart attack symptoms but just didn't feel right? How would you weigh up the risks and decide whether to go to the hospital or remain at home? 
For many people at risk of heart attack and stroke, the risk of COVID-19 infection presents a seemingly impossible choice, especially in cases where symptoms are mild and confounded by other issues like anxiety or indigestion. Others may delay calling for help because they perceive their own health concerns to be less urgent than others' and don't want to burden an already overstretched health service during the pandemic. 
Do not delay seeking help - even during lockdown
NHS chief executive, Sir Simon Stevens, issued a statement warning the public that delays in getting treatment due to coronavirus fears pose a long term risk to people's health [2]. 
Dr Sonya Babu-Narayan, Associate Medical Director at the British Heart Foundation, said: "Whilst many things right now are uncertain, one thing that we can be certain of is that heart attacks kill. If people put off seeking urgent medical help when they are having heart attack symptoms they put their life at risk…
"Our message is clear, do not delay seeking help. If you are experiencing symptoms of a heart attack call 999 immediately. If you have a heart condition which is getting worse don't delay in seeking medical advice and help. You are not a burden, the NHS remains ready to treat you."
Juliet Bouverie, Chief Executive of the Stroke Association, said: "If you suspect that you, or someone you're with, may be having a stroke don't hesitate to seek medical help. Think FAST: Face, Arms, Speech – it's Time to call 999. A stroke is a medical emergency as is a mini-stroke. Don't dismiss it as 'just a funny-turn'. The quicker you're diagnosed and treated for a stroke, the better your chances of making a good recovery."
Heart attack symptoms
Heart attacks are not always as seen on TV, and women in particular may experience milder symptoms which seem easy to dismiss as indigestion, menopausal symptoms or as anxiety resulting from the stresses of lockdown. It is important for people to know that calling for help is always the right thing to do - especially in situations where the symptoms are unclear or confounded by other issues. Let the experts decide. 
Below are some of the classic symptoms which may indicate a heart attack:
·   Chest pain, tightness or heaviness
·   Can move to the jaw, through to the back or shooting down the left arm
·   Associated with nausea, sweating or diarrhoea
·   Classically worse with exertion
·   A history of heart attacks or heart disease
Not everyone experiences severe chest pain - this is particularly the case for many women.
If you or someone you know experiences chest pain or discomfort for more than 15 minutes, especially if accompanied by nausea and sweating, call an ambulance immediately. Seeking help, even while shielding or in lockdown, is always the safer option.

Data suggest that fewer people sought help during the first lockdown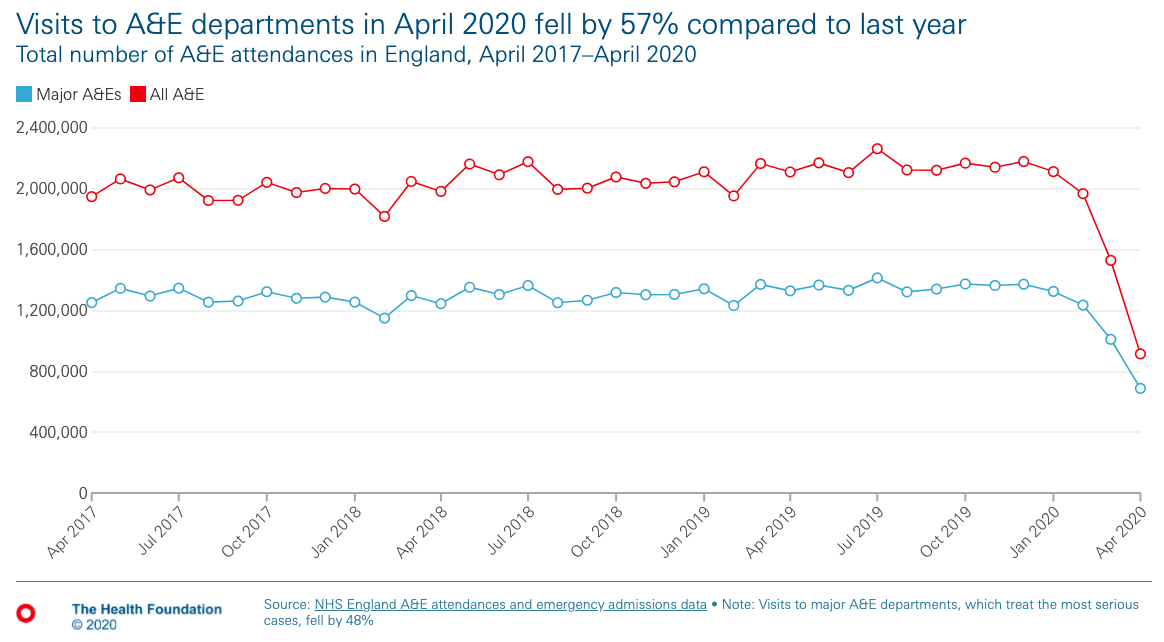 The data shown in the above chart represent the number of people attending A&E (Emergency / ED) in the UK during the first COVID-19 wave in April 2020. During the lockdown, the number dropped by a staggering 57%. A recent study in Heart, a major cardiology journal, found a similar sharp drop in use of cardiology services in one UK centre.  There was a 53% reduction in patients presenting to Emergency Departments with heart attack symptoms such as chest pain or shortness of breath, and a 40% drop in the number of patients who received a diagnosis of heart attack.
While there are many complex reasons for a drop in the number of A&E visits, the most concerning is that people may have been reluctant to seek help and may have suffered long term damage to their health as a consequence.
Please share this article with friends and family, especially those shielding from COVID-19, managing long term health conditions, or those at risk of heart attack or stroke.
Learn more:
References 
1. Accessed online at https://www.health.org.uk/news-and-comment/charts-and-infographics/visits-to-a-e-departments-in-england-in-april-2020-fell-by-57
2.Accessed online athttps://www.england.nhs.uk/2020/04/help-us-help-you-nhs-urges-public-to-get-care-when-they-need-it/