Healthcare Education during the COVID-19 Pandemic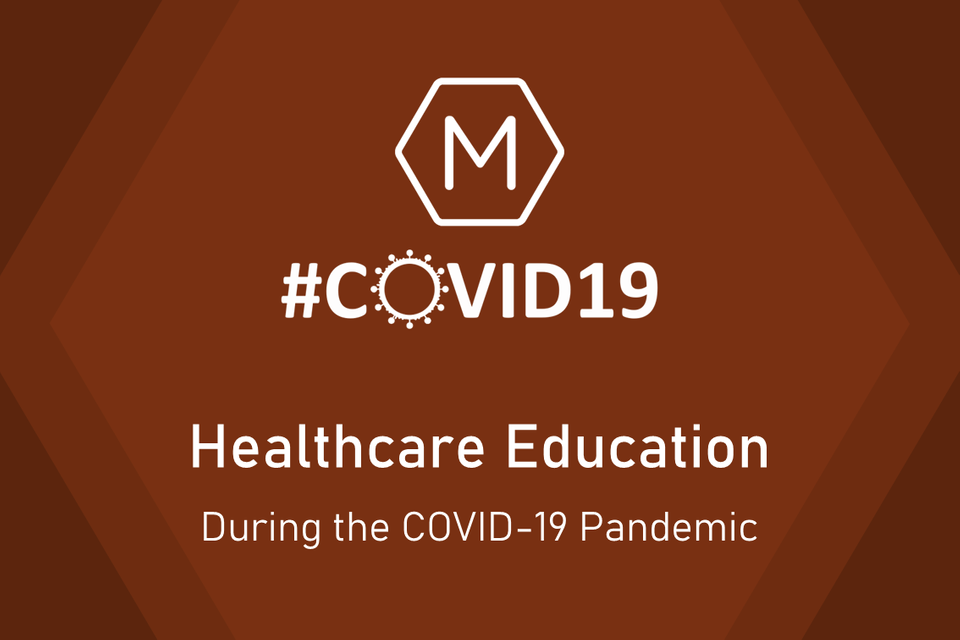 Open article published on MedShr: 20th January 2021
Last updated: 20th January 2021
Every effort has been made to ensure that the information contained in this article is accurate and current at time of publication, but if you notice an error please contact covid@medshr.net and we will aim to address this. Please find MedShr's full terms of service here.
---
The COVID-19 pandemic has brought about significant disruption to traditional medical education and training for healthcare professionals.[1] A key component of healthcare education is centred around learning in the clinical environment on placements and attachments. However, with the increased pressure on healthcare systems, the risk of infection from COVID-19, and a limited supply of PPE, traditional clinical placements for healthcare students have been limited, and as a result medical education has had to adapt rapidly to these changes.[2] There is an extensive literature catalogue exploring different approaches which have been employed to try and ensure continuity of education for healthcare professionals during the COVID-19 pandemic [3], and this article aims to provide a brief overview of some of these approaches, including some of the challenges that are reported.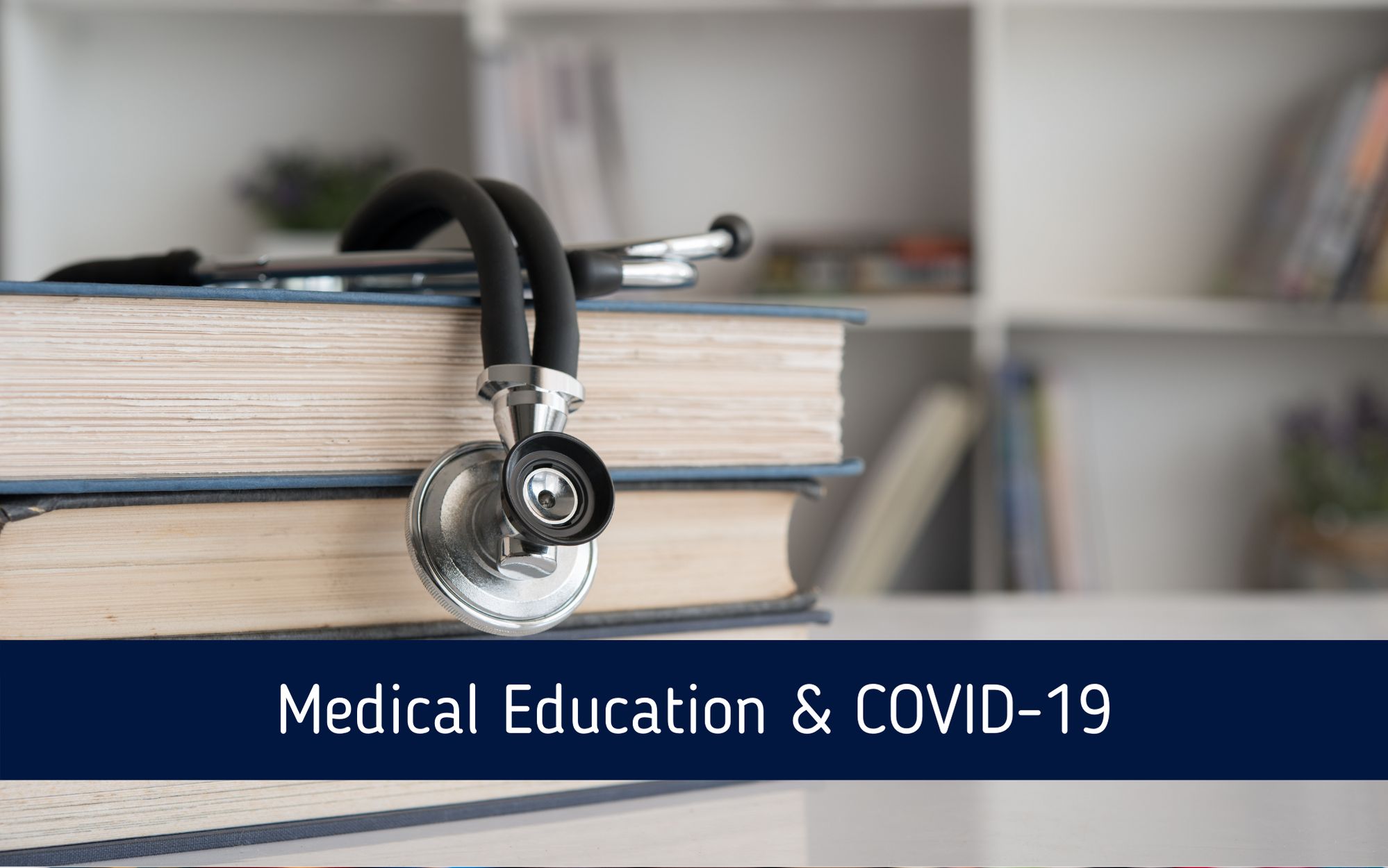 Innovative Solutions for Ensuring the Continuity of Medical Education
Technology-enhanced learning has a central role to play in modern medical education [4], and has been of particular importance in the adaptive responses utilised during the COVID-19 pandemic.[1, 5, 6] During a pandemic, supporting education using information technology can allow content to be continuously updated as knowledge about the pandemic evolves, allow for learning in a safe environment, and may also help reduce pressures on teaching faculty at a time when clinical pressures are increased.[7]
Since the beginning of the COVID-19 pandemic, a wide range of creative adaptations of information technology for distance learning in healthcare education have been described in the literature [3, 8], and include:
Virtual clinical experiences using teleconferencing tools: some institutions have utilised teleconferencing tools to allow students to engage with clinical ward rounds remotely via video link.[9, 10] These real-time virtual ward rounds were well received by the students and healthcare team, and in addition to providing an opportunity to learn about COVID-19, also allow for the development of other essential skills such as learning physical examination findings, developing diagnostic reasoning, and observing communication during difficult conversations.[10] The structure of one of these programmes was specifically designed to try and prepare the students for the skills they would require as a newly qualified physician.[9]

Interactive modules using a combination of e-Learning and simulated patients: examples are described in the literature of teaching using teleconferencing tools to allow the delivery of tutorials on history and examination skills, but also combining this with a virtual interaction with a simulated patient.[11] This combined approach allowed for the students to gain feedback on their interaction with the simulated patient, and subsequently to engage in case discussion about the clinical case.[11] 

Virtual conferences for case-based discussion: teleconferencing tools have also been utilised for running virtual case-based teaching conferences, such as morning reports or grand rounds, where education and case discussion can be delivered to a group which includes both members of the clinical team and medical students.[12, 13] 

This approach allows interaction, discussion and learning across different healthcare teams, and in instances where these sessions were also recorded, it is possible to provide asynchronous learning by making these recordings available to a restricted list of individuals. However, there are challenges associated with sessions such as this, including monitoring access to the forum, protecting patient confidentiality, and moderating the discussion. 

Use of social media for knowledge sharing and discussion: in a similar approach to virtual case-based teaching conferences, some organisations and individuals have also used social media platforms and online forums for sharing teaching resources, signposting and appraising research and guidelines, and allowing interaction and discussions between experts and trainees.[13, 14, 15] These discussions aim to promote the exchange of ideas across a wide community, and can allow healthcare professionals and students to engage in learning around topics in an accessible way.[14, 15]

Peer-mentoring using social media and teleconferencing: to help with the mental and emotional burden placed on medical students due to the COVID-19 pandemic, some medical schools have trialled using social media platforms to generate support networks linking junior students with a senior student colleague.[16] Findings from this pilot project suggested an approach like this was beneficial not only for providing mentorship and support to the junior medical students, but also for allowing the senior medical students to develop communication skills and professionalism relevant for future clinical practice.[16] Furthermore, in recognition of the need for supportive pastoral care for medical and healthcare students, the potential benefits of continuing and evolving such networks beyond the COVID-19 pandemic has been emphasised.[1, 17] Beyond supporting pastoral support amongst peers and faculty, there are also projects which have promoted peer-led education using teleconferencing solutions during the pandemic.[18]

Using reality medical television to contextualise learning: one novel approach to medical education described in BMC Medical Education relates to integrating short clips from medical reality TV into clinical tutorials.[19] The intention is to provide a relatable medium to the content of the tutorial at a time when attendance in the clinical environment is restricted, and the study suggests the videos helped to prompt discussion, identify gaps in knowledge, and convey some practical aspects of prescribing and care requirements in real clinical environments.[19]
Please note the described examples have not been collated from a formal or comprehensive systematic review, and simply aim to provide an overview of some of the innovative approaches to delivering healthcare education during the COVID-19 pandemic.
Challenges and Future Directions
The COVID-19 pandemic has led to significant advances in the role for information technology in both healthcare delivery (through telemedicine) and in healthcare education, and the potential for some of these creative solutions to become a normal part of healthcare training beyond the pandemic is being considered.[1, 2, 3] However, it is clear that there are potential challenges and barriers to implementing increasing virtual learning permanently in medical education, including infrastructure requirements and costs, time for planning and creating the resources, and attitudes towards virtual learning by both faculty and students.[3, 8, 20, 21] 
It will also be important to evaluate the potential impact of reduced social interaction and engagement with peers through increased distance learning using information technology, and how this may impact on students feelings of isolation, anxiety or stress.[3] Some authors have also highlighted their concerns that reduced direct clinical exposure will limit positive experiences on clinical placements which subsequently influence future career choices, particularly for specialties such as surgery.[22] 
Therefore it will be important for future research in the field of medical education to fully evaluate the potential impact of these challenges [23], and to ensure any long-term approaches integrating such technology to medical education have strategies to mitigate these effects.[1, 3, 20] However, literature published prior to the COVID-19 pandemic was supportive of increasing use of information technology solutions in healthcare education moving forward [4], and hopefully as illustrated briefly in this article, there are a number of innovative new approaches which have been trialled as a result of the need to adapt during the global pandemic. These solutions may provide an opportunity to further enhance and increase accessibility to healthcare education across the globe in the future.[2]
---
MedShr as a tool for Digital Case Discussion
MedShr was established with the intention of providing a digital platform to allow healthcare professionals to share knowledge and expertise through case discussion, but in a manner which protects patient privacy and promotes professionalism.
Creating a network or group with your colleagues can allow you to share and discuss anonymous clinical content at a time which is convenient for you. MedShr members use private discussion groups for:
Educational case discussion: share educational cases for trainees or healthcare students, allowing anonymous case discussion in a virtual environment

Peer-to-peer learning: reflect on anonymous cases, and gain insights and advice from your colleagues 

Quality improvement: discuss outcomes of audits and departmental projects to consider implementations for change

Sharing educational resources: such as teaching presentations and guidelines

Virtual journal club: share, discuss and appraise new research and guidelines
If you would be interested in establishing an educational group on MedShr for your clinical team, department or training programme to create a virtual clinical learning environment please contact info@medshr.net and we would be happy to help.
---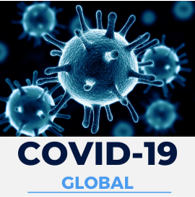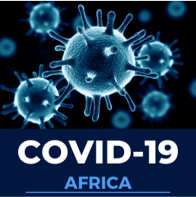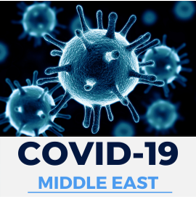 ---
References:
[1] Sharma D, Bhaskar S. Addressing the Covid-19 Burden on Medical Education and Training: The Role of Telemedicine and Tele-Education During and Beyond the Pandemic. Front Public Health. 2020 Nov 27;8:589669. doi: 10.3389/fpubh.2020.589669. PMID: 33330333; PMCID: PMC7728659.
[2] Wayne DB, Green M, Neilson EG. Medical education in the time of COVID-19. Sci Adv. 2020 Jul 29;6(31):eabc7110. doi: 10.1126/sciadv.abc7110. PMID: 32789183; PMCID: PMC7399480.
[3] Wilcha RJ. Effectiveness of Virtual Medical Teaching During the COVID-19 Crisis: Systematic Review. JMIR Med Educ. 2020 Nov 18;6(2):e20963. doi: 10.2196/20963. PMID: 33106227; PMCID: PMC7682786.
[4] George PP, Papachristou N, Belisario JM, Wang W, Wark PA, Cotic Z, Rasmussen K, Sluiter R, Riboli-Sasco E, Tudor Car L, Musulanov EM, Molina JA, Heng BH, Zhang Y, Wheeler EL, Al Shorbaji N, Majeed A, Car J. Online eLearning for undergraduates in health professions: A systematic review of the impact on knowledge, skills, attitudes and satisfaction. J Glob Health. 2014 Jun;4(1):010406. doi: 10.7189/jogh.04.010406. PMID: 24976965; PMCID: PMC4073252.
[5] Dost S, Hossain A, Shehab M, Abdelwahed A, Al-Nusair L. Perceptions of medical students towards online teaching during the COVID-19 pandemic: a national cross-sectional survey of 2721 UK medical students. BMJ Open. 2020 Nov 5;10(11):e042378. doi: 10.1136/bmjopen-2020-042378. PMID: 33154063; PMCID: PMC7646323.
[6] Vallée A, Blacher J, Cariou A, Sorbets E. Blended Learning Compared to Traditional Learning in Medical Education: Systematic Review and Meta-Analysis. J Med Internet Res. 2020 Aug 10;22(8):e16504. doi: 10.2196/16504. PMID: 32773378; PMCID: PMC7445617.
[7] BMJ Best Practice. Medical education during the COVID-19 outbreak [internet]. 2020 Mar 20. Available from: https://bestpractice.bmj.com/info/covid-19/
[8] Dedeilia A, Sotiropoulos MG, Hanrahan JG, Janga D, Dedeilias P, Sideris M. Medical and Surgical Education Challenges and Innovations in the COVID-19 Era: A Systematic Review. In Vivo. 2020 Jun;34(3 Suppl):1603-1611. doi: 10.21873/invivo.11950. PMID: 32503818.
[9] Pennell CE, Kluckow H, Chen SQ, Wisely KM, Walker BL. Live-streamed ward rounds: a tool for clinical teaching during the COVID-19 pandemic. Med J Aust. 2020 Oct;213(7):306-308.e1. doi: 10.5694/mja2.50765. Epub 2020 Sep 9. PMID: 32909270.
[10] Hofmann H, Harding C, Youm J, Wiechmann W. Virtual bedside teaching rounds with patients with COVID-19. Med Educ. 2020 Oct;54(10):959-960. doi: 10.1111/medu.14223. Epub 2020 Jun 4. PMID: 32403185; PMCID: PMC7273015.
[11] Afonso N, Kelekar A, Alangaden A. "I Have a Cough": An Interactive Virtual Respiratory Case-Based Module. MedEdPORTAL. 2020 Dec 17;16:11058. doi: 10.15766/mep_2374-8265.11058. PMID: 33365392; PMCID: PMC7751326.
[12] Murdock HM, Penner JC, Le S, Nematollahi S. Virtual Morning Report during COVID-19: A novel model for case-based teaching conferences. Med Educ. 2020 Sep;54(9):851-852. doi: 10.1111/medu.14226. Epub 2020 Jun 22. PMID: 32403168; PMCID: PMC7273056.
[13] Abi-Rafeh J, Azzi AJ. Emerging role of online virtual teaching resources for medical student education in plastic surgery: COVID-19 pandemic and beyond. J Plast Reconstr Aesthet Surg. 2020 Aug;73(8):1575-1592. doi: 10.1016/j.bjps.2020.05.085. Epub 2020 May 29. PMID: 32553546; PMCID: PMC7256619.
[14] Finn GM, Brown MEL, Laughey W, Dueñas A. #pandemicpedagogy: Using Twitter for knowledge exchange. Med Educ. 2020 Dec;54(12):1190-1191. doi: 10.1111/medu.14242. Epub 2020 Jun 9. PMID: 32418270; PMCID: PMC7276845.
[15] Rashid MA, Yip SWL, Gill D, Arfeen Z. Sharing is caring: an analysis of #FOAMed Twitter posts during the COVID-19 pandemic. Postgrad Med J. 2020 Dec 14:postgradmedj-2020-139267. doi: 10.1136/postgradmedj-2020-139267. Epub ahead of print. PMID: 33318145; PMCID: PMC7736962.
[16] Rastegar Kazerooni A, Amini M, Tabari P, Moosavi M. Peer mentoring for medical students during the COVID-19 pandemic via a social media platform. Med Educ. 2020 Aug;54(8):762-763. doi: 10.1111/medu.14206. Epub 2020 Jun 29. PMID: 32353893; PMCID: PMC7267157.
[17] Hodgson JC, Hagan P. Medical education adaptations during a pandemic: Transitioning to virtual student support. Med Educ. 2020 Jul;54(7):662-663. doi: 10.1111/medu.14177. Epub 2020 May 26. PMID: 32291794.
[18] Jeong L, Smith Z, Longino A, Merel SE, McDonough K. Virtual Peer Teaching During the COVID-19 Pandemic. Med Sci Educ. 2020 Sep 9:1-2. doi: 10.1007/s40670-020-01065-1. Epub ahead of print. PMID: 32929390; PMCID: PMC7480894.
[19] Osborne F, Harrison M, Fisher J, Bateman B. Using medical reality television as a technology-enhanced learning strategy to provide authentic patient care experiences during clinical placements: a case study research investigation. BMC Med Educ. 2021 Jan 6;21(1):15. doi: 10.1186/s12909-020-02432-7. PMID: 33407378; PMCID: PMC7786856.
[20] O'Doherty D, Dromey M, Lougheed J, Hannigan A, Last J, McGrath D. Barriers and solutions to online learning in medical education - an integrative review. BMC Med Educ. 2018 Jun 7;18(1):130. doi: 10.1186/s12909-018-1240-0. PMID: 29880045; PMCID: PMC5992716.
[21] Al-Balas M, Al-Balas HI, Jaber HM, Obeidat K, Al-Balas H, Aborajooh EA, Al-Taher R, Al-Balas B. Distance learning in clinical medical education amid COVID-19 pandemic in Jordan: current situation, challenges, and perspectives. BMC Med Educ. 2020 Oct 2;20(1):341. doi: 10.1186/s12909-020-02257-4. Erratum in: BMC Med Educ. 2020 Dec 16;20(1):513. PMID: 33008392; PMCID: PMC7530879.
[22] Khan S, Mian A. Medical education: COVID-19 and surgery. Br J Surg. 2020 Jul;107(8):e269. doi: 10.1002/bjs.11740. Epub 2020 Jun 3. PMID: 32492170; PMCID: PMC7301046.
[23] Kim JW, Myung SJ, Yoon HB, Moon SH, Ryu H, Yim JJ. How medical education survives and evolves during COVID-19: Our experience and future direction. PLoS One. 2020 Dec 18;15(12):e0243958. doi: 10.1371/journal.pone.0243958. PMID: 33338045; PMCID: PMC7748283.
---
Article by Dr Ryan Broll, MedShr Open Editorial Team, Medical Education Fellow