#TCT2020 Case Competition: Post your CTO, TAVI and complex PCI cases to enter!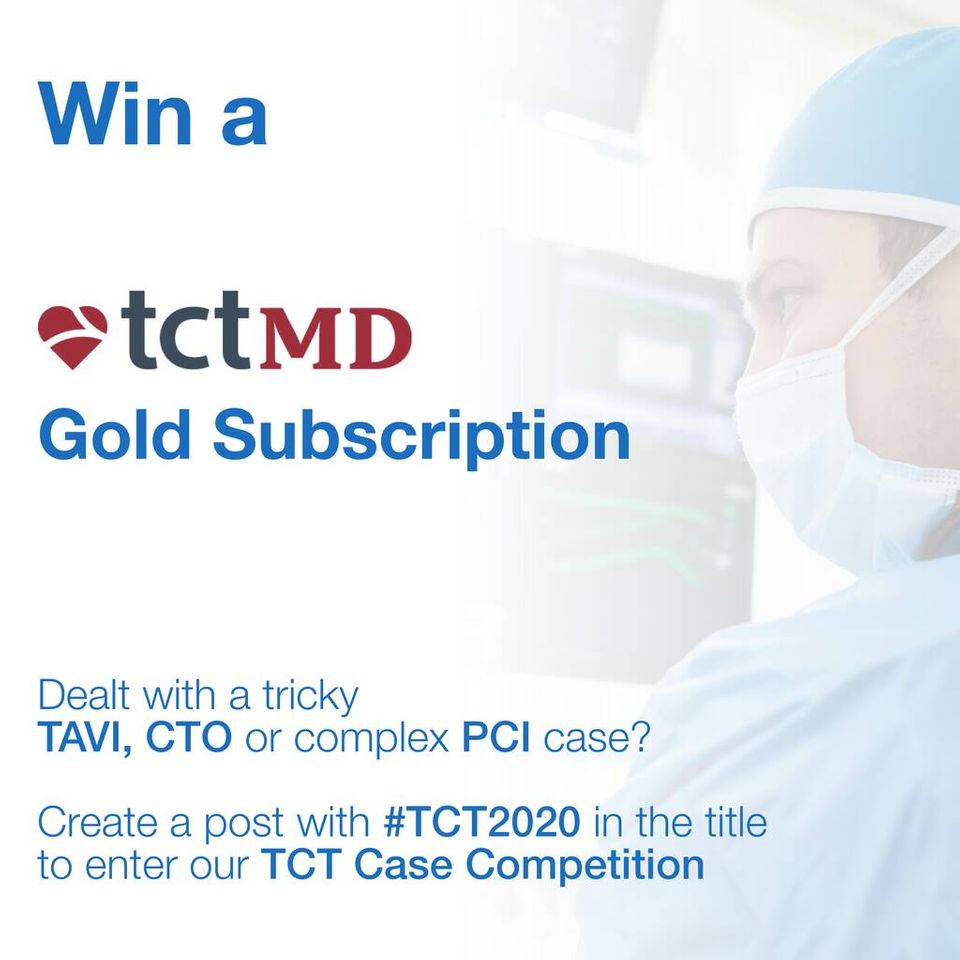 MedShr and CRF are running a case competition for TCT Connect 2020 - you can take part whether or not you are attending the virtual conference.
Entering the competition is easy and takes just a few minutes -
1) Join the MedShr TCT Connect Discussion Group: https://medshr.it/RYiXcr4sS9
2) Post an interesting PCI, TAVI or structural case in the group on MedShr by 18th October. 
Your cases only need a short description accompanied by angios or other imaging. Please add #TCT2020 in the title of your cases to indicate they are competition entries. 
All competition entries will be featured in the TCT Connect group on MedShr and shared with our global cardiology audience. 
The best case with the most engaging discussion will be announced on MedShr, and the winner awarded a TCTMD Gold subscription.
Competition Deadline: 18th October 2020
---
About TCT Connect:
CRF has transitioned the in-person conference to a compelling and unique online experience – TCT Connect – broadcasting October 14-18, 2020.
TCT Connect will deliver the high-quality education, training, and clinical science our meeting attendees have come to expect.
The event will feature live case-based transmissions from around the globe, late-breaking clinical trials and science training, and countless opportunities to learn and engage with the brightest minds in interventional cardiovascular medicine.
Click here for free registration for TCT Connect: https://www.tctconnect.com
---
MedShr #TCT2020 Case Competition - Terms and Conditions:
This competition is open to professionals who are verified MedShr members.  Competition entrants do not need to be in attendance at the virtual TCT Connect 2020 conference. MedShr employees are not eligible to enter this competition.  

To enter, participants must post on the MedShr platform (app or web) with the following content:

2.1. A clinical photo, image, PDF or powerpoint 

2.2. A brief question or discussion point appropriate to a global community of medical professionals and medical students.

2.3. Tags relevant to one or more specialties

2.4. Title including the words "#TCT2020"

Participants may choose to amplify the discussion by actively sharing with colleagues on and off the MedShr platform, on the channels below and their equivalents. Image / video and description will only be visible on the MedShr platform - these are blurred or removed when shared off-platform.

3.1. MedShr connections

3.2. Relevant MedShr groups

3.3. Twitter (mention @MedShrOnline)

3.4. Facebook (tag MedShr)

3.5. Facebook Messenger 

3.6. WhatsApp, including WhatsApp groups

3.7. Instagram, including Instagram stories

3.8. LinkedIn

3.9. Email 

Competition opens on 18th September 2020, and all entries must be posted on MedShr on or before 18th October 2020.

Multiple entries per person allowed.

The prize consists of a TCTMD Gold subscription.

Cases must have patient consent & protect patient privacy, in accordance with MedShr Terms of Use.

One winner will be chosen at the discretion of the MedShr team, and selected based on the quality of the case and subsequent discussion, and overall how it contributes to knowledge sharing and learning on the MedShr platform.

The winner will be notified by email within 28 days of the closing date. If the winner cannot be contacted or does not claim the prize within 14 days of notification, we reserve the right to withdraw the prize from the winner.

The winner agrees to the use of his/her name and image in any publicity material. Any personal data relating to the winner or any other entrants will be used solely in accordance with current UK data protection legislation and will not be disclosed to a third party without the entrant's prior consent.

The prize is not transferable. Prizes are subject to availability and we reserve the right to substitute any prize with another of equivalent value without giving notice.

The promoter reserves the right to cancel or amend the competition and these terms and conditions without notice.

By entering this competition, an entrant is indicating his/her agreement to be bound by these terms and conditions.
Promoter: MedShr Ltd (company no. 08928248)