Signs & Symptoms: Could it be COVID-19?
The signs and symptoms of a COVID-19 infection can vary widely, from having mild or no symptoms to a severe viral pneumonia causing severe breathing difficulty and respiratory failure. The most common radiological findings are ground glass opacification and patchy consolidation of lung fields. 
Key Points:
The average incubation period is 5 days, but can be up to 14 days (1,2)

There are small case series and reports have reported the possibility of asymptomatic infection and transmission (3,4)

The clinical course and progress over 1-3 weeks from onset of symptoms and deteriorations can be rapid (1,5,6,7) 

Majority of patients with a COVID-19 infection will experience symptoms within 12.5 days (95%) (1)

CT lung field changes may be present even in the asymptomatic and mild cases (2,5,6,8)

Patients who required intensive care unit (ITU) admission were older, more likely to have comorbidities (2,9); median age for patients in ITU was 56 years (2)
Common Symptoms:
Fever

Dry cough

Fatigue

Myalgia (muscle ache)

Dyspnea (breathing difficulty)

Anorexia (loss of appetite)
Uncommon symptoms: 
Diarrhoea

Headache

Haemoptysis (blood stained sputum)

Productive cough/sputum

Pleuritic chest pain (pain from chest movement on breathing)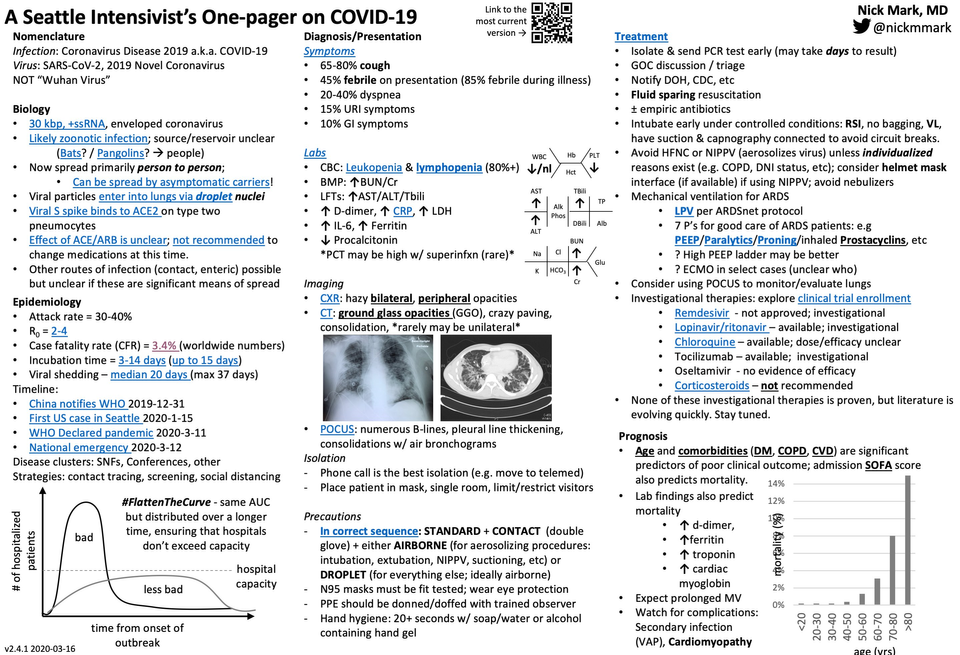 Infographic tweeted on COVID-19 by Nick Mark MD, now also available in multiple languages. Helpful one-page summaries available on his website.
References:
He F, Deng Y, Li W. Coronavirus Disease 2019 (COVID-19): What we know? [published online ahead of print, 2020 Mar 14]. J Med Virol. 2020;10.1002/jmv.25766. doi:10.1002/jmv.25766

Wang D, Hu B, Hu C, et al. Clinical Characteristics of 138 Hospitalized Patients With 2019 Novel Coronavirus–Infected Pneumonia in Wuhan, China. JAMA. 2020;323(11):1061–1069. doi:10.1001/jama.2020.1585

Bai Y, Yao L, Wei T, et al. Presumed Asymptomatic Carrier Transmission of COVID-19. JAMA. Published online February 21, 2020. doi:10.1001/jama.2020.2565

Chan JF, Yuan S, Kok KH, et al.  A familial cluster of pneumonia associated with the 2019 novel coronavirus indicating person-to-person transmission: a study of a family cluster.  Lancet. 2020;3 95(10223):514-523. doi:10.1016/S0140-6736(20)30154-9

Pan F, Ye T, Sun P, Gui S, Liang B, Li L, Zheng D, Wang J, Hesketh RL, Yang L, Zheng C. Time Course of Lung Changes On Chest CT During Recovery From 2019 Novel Coronavirus (COVID-19) Pneumonia. Radiology. 2020 Feb 13;200370. doi: 10.1148/radiol.2020200370. [Epub ahead of print] PubMed PMID: 32053470

Pan Y, Guan H, Zhou S, Wang Y, Li Q, Zhu T, Hu Q, Xia L. Initial CT findings and temporal changes in patients with the novel coronavirus pneumonia (2019-nCoV): a study of 63 patients in Wuhan, China. Eur Radiol. 2020 Feb 13;. doi: 10.1007/s00330-020-06731-x. [Epub ahead of print] PubMed PMID: 32055945

Shi H, Han X, Jiang N, et al. Radiological findings from 81 patients with COVID-19 pneumonia in Wuhan, China: a descriptive study. Lancet Infect Dis. 2020

Li Q, Guan X, Wu P, et al. Early Transmission Dynamics in Wuhan, China, of Novel Coronavirus-Infected Pneumonia. N Engl J Med. 2020

Huang C, Wang Y, Li X, et al. Clinical features of patients infected with 2019 novel coronavirus in Wuhan, China. Lancet 2020; published online Jan 24. https://doi.org/10.1016/S0140-6736(20)30183-5