Escalated ENT Guidance for the COVID-19 Pandemic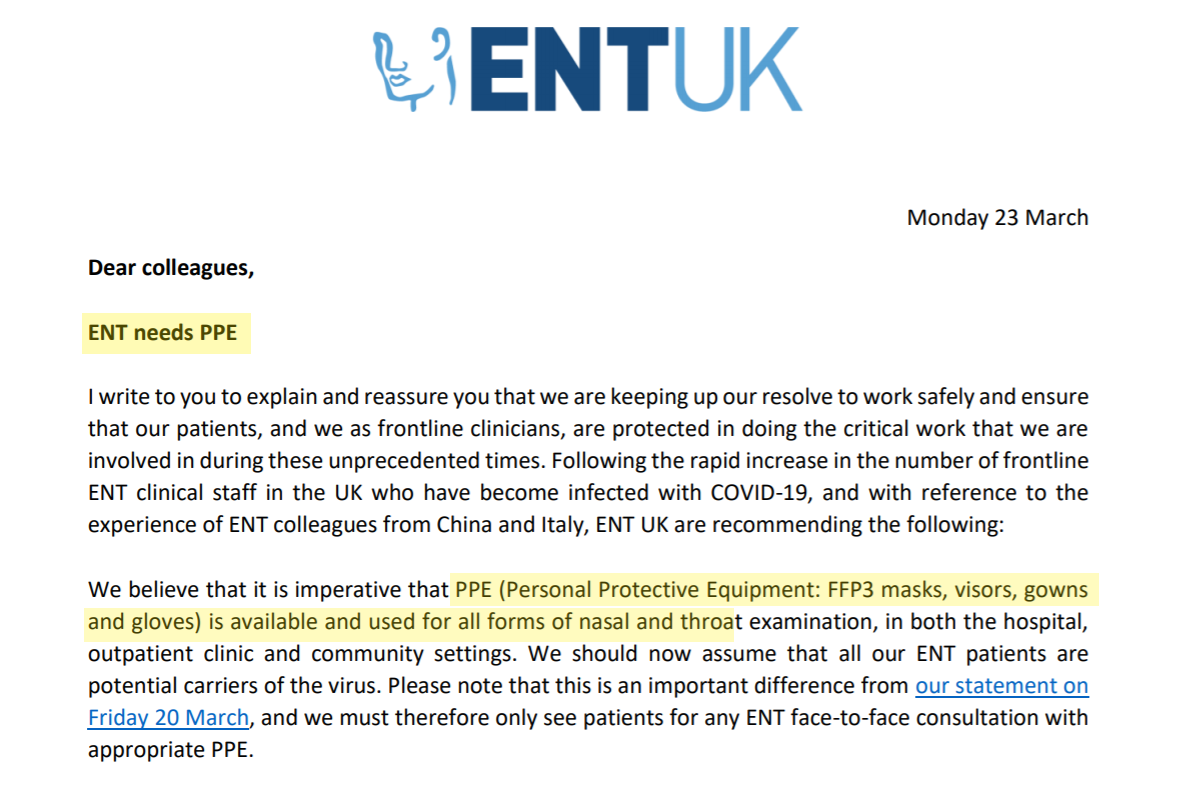 Latest update from ENT UK calling for more personal protective equipment (PPE) for healthcare staff. When examining the nasal cavity and throat, whether in hospital or in the community, it it advised to treat all patients as potentially positive for COVID-19.
For the full letter to members of ENT UK and more guidance on ENT services, cancer referrals and examination procedure please visit the ENT UK COVID-10 site.
Summary of ENT-UK guidance updates:

1) Assume all ENT patients are potential carriers of the virus
2) Only see patients for any face-to-face consultation with appropriate PPE
3) FFP3 masks, visors, gowns and gloves recommended for all forms of nasal and throat examination
4) For endoscopy:
Visor or goggles must be worn
Gloves must be worn
Disposable hair cover/cap must be worn
Gowns – minimum AAMI Level 2 gown (minimal to low fluid barrier protection)
FFP3 mask use and fit-testing of mask is compulsory
Video monitor used for endoscopy and not eye-piece
5) Take care when performing gowning down-procedure to avoid contamination
6) In a known case of COVID-19 infection, the highest-level protection has to be taken, using full respirator, negative pressure room, reduction of personnel
The advice by ENT-UK will also have implications for other hospital and community healthcare professionals (e.g. emergency, acute medicine, general practice and paediatrics etc.)
In addition more evidence is emerging on the asymptomatic carriage of COVID-19 in children and subsequent infection of adults.